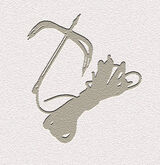 A combat hook is basically a grappling hook modified for combat. It is used by hobgoblin commandos and thieves who like to be ready for a fight. The weapon consists of a twenty-foot long chain with a grappling hook at the end.
| | | | | | | |
| --- | --- | --- | --- | --- | --- | --- |
| Cost | Dmg (S) | Dmg (M) | Critical | Range Increment | Weight | Type |
| 30 gp | 1d6 | 1d10 | x2 | Reach | 15 lbs | Bludgeoning/Piercing |
Despite the chain's length, it is treated as a normal reach weapon (doubling a creature's natural reach). The twenty feet is for when it is used as a grappling hook. The combat hook's length for this purpose can be increased for a cost of 50 gp per ten feet, to a maximum of 50 feet. It's combat reach does not change. The combat hook is an exotic two-handed weapon. Weapon finesse can be aplied to its usage. The Combat Hook can be used to make trip attempts. If you are tripped during your own trip attempt, you can drop the hook to avoid being tripped.
Ad blocker interference detected!
Wikia is a free-to-use site that makes money from advertising. We have a modified experience for viewers using ad blockers

Wikia is not accessible if you've made further modifications. Remove the custom ad blocker rule(s) and the page will load as expected.